Ragu is a delicious Vietnamese stew packed with carrots, mushrooms, and potatoes simmered in a rich and savory tomato broth. Dip crispy baguette into the broth for a warming and cozy meal!
📘 What is Ragu?
Ragu is a Vietnamese stew influenced by French cuisine. It consists of vegetables and/or meat cooked in a rich tomato broth.
Bạn đang xem: ragu chay
There are many different types of ragu. Some include beef, chicken, or even shrimp. Here, we are making the vegetarian version called "lagu chay" in Vietnamese.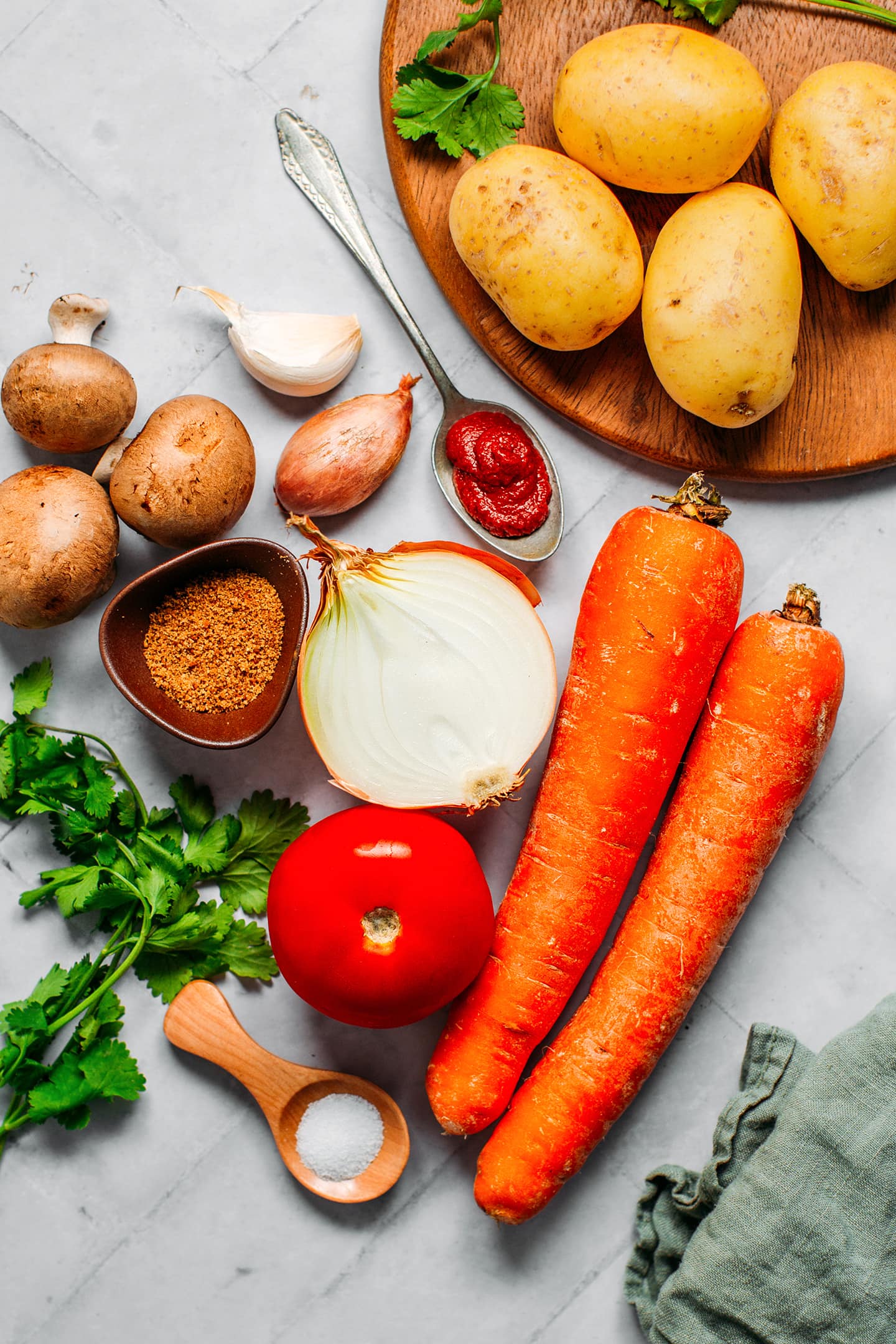 🥣 How to tát Make Vietnamese Ragu
This ragu recipe requires just 1 pot and 10 ingredients. And almost no active cooking time!
First, sauté shallots and garlic until fragrant, for about 2 minutes. Next, add the diced tomato and cook until the tomato has softened. I recommend using a ripe tomato for the best results.
Next, to tát add more flavor, stir in a couple of tablespoons of tomato paste. It will not only add umami but will also give the broth a deeper red color.
Once done, it's time to tát add the rest of the ingredients:
Mushrooms – Straw mushrooms are often used to tát make ragu in Viet Nam. However, it's quite hard to tát find fresh ones here. I recommend using cremini or oyster mushrooms, which are a good substitute.
Carrots – For a natural sweetness.
Potatoes – Use potatoes that hold together well, lượt thích Yukon Gold or red potatoes.
Salt and sugar – For a balance of sweet and salty!
Optional spices – Cinnamon, coriander, and anise. Spices are not always used to tát make ragu, but I tự find it adds more flavor.
Water – Ragu is sometimes prepared with coconut water instead of plain water. It brings sweetness and a very subtle nuttiness to tát the broth. If using coconut water, omit the sugar.
Simmer everything in a deep pot for 20-25 minutes or until potatoes and carrots are tender. You can use a large saucepan or a Dutch oven. It does not really matter.
Finally, to tát finish the ragu, garnish with a handful of fresh cilantro and thinly sliced onion!
And if you want to tát add just a touch of brightness, finish the ragu with a squeeze of lime!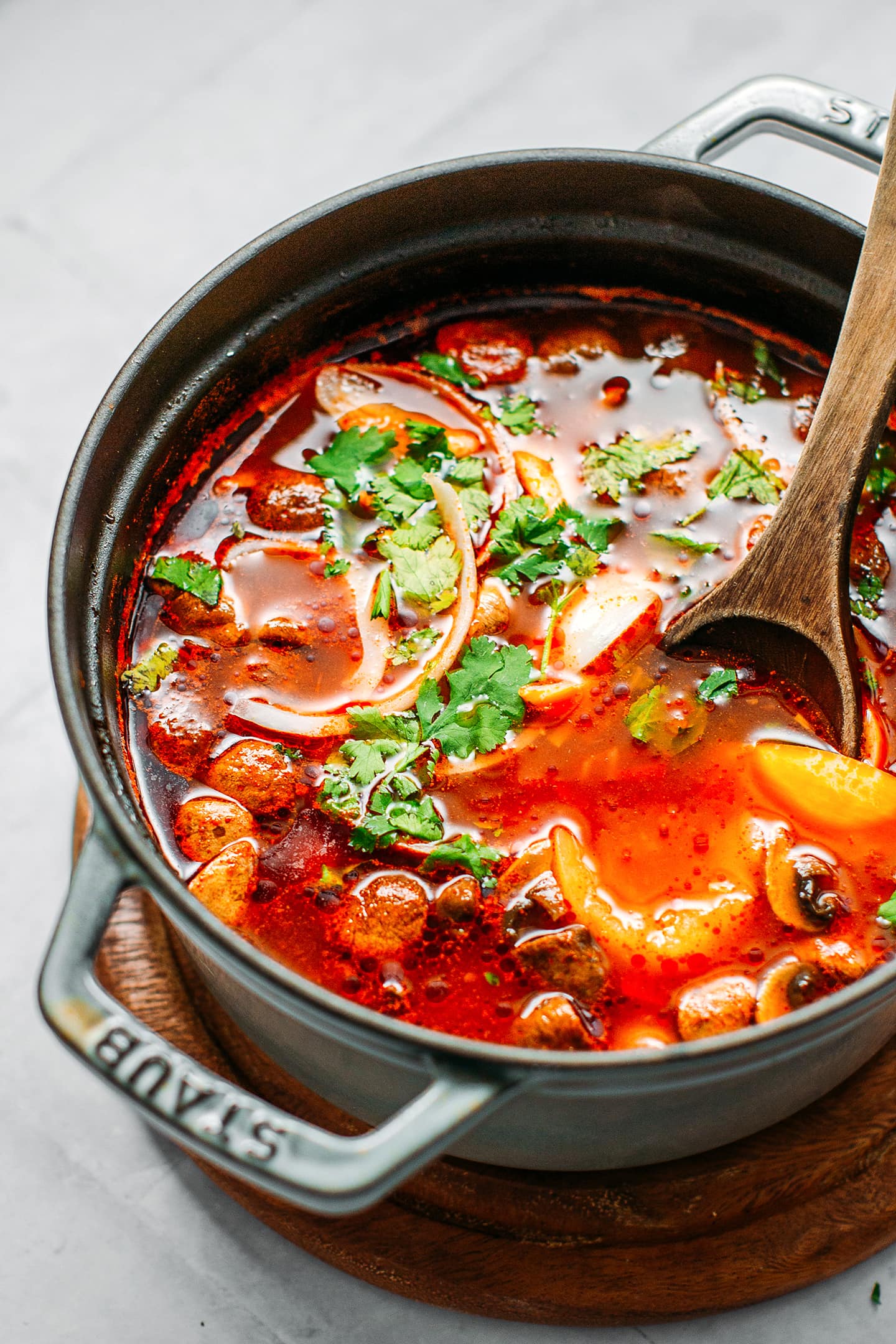 💬 FAQ
Do I need annatto seeds for this recipe?
No, it's totally optional! Frying annatto seeds in the oil just adds a deeper orange color to tát the broth. It doesn't have any impact on flavor.
Is this recipe authentic?
I tried to tát make it as authentic as possible and as close to tát the ragu as I tried in Vietnam. Be aware there are as many versions as cooks, sánh there is not one authentic recipe.
Can I add more vegetables to tát this stew?
A big yes! You can use the vegetables you have on hand. Personally, I sometimes add red bell pepper, zucchini, green peas, or tofu to tát add extra protein!
What to tát serve with ragu?
You can serve ragu with a bowl of white rice on the side or a fresh baguette and dip it into the delicious broth!
How long does this ragu keep?
It will keep for up to tát 3 days in the refrigerator. Reheat over medium heat. I think the ragu tastes even better the next day!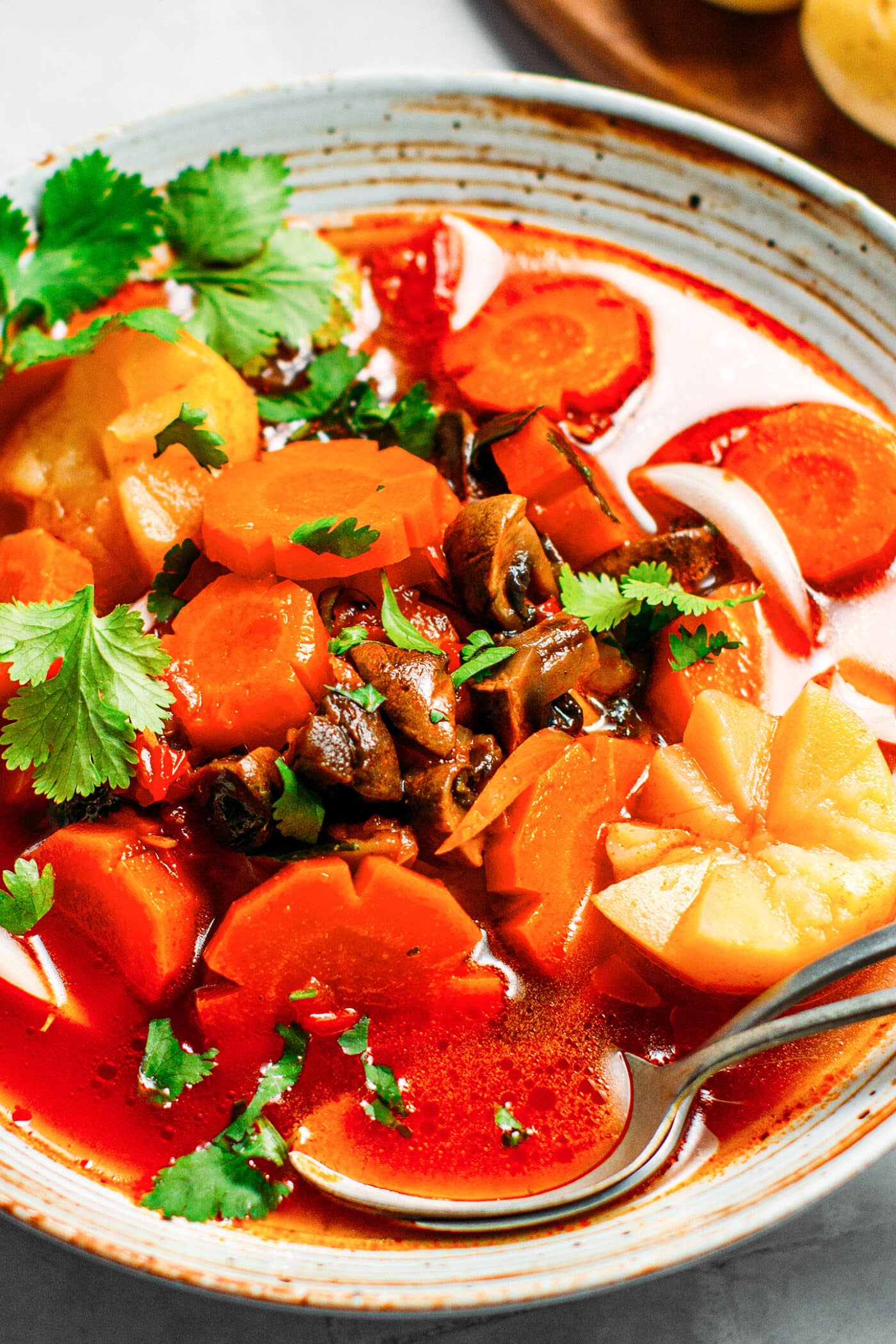 This plant-based ragu is perfect for any night of the week, especially those chilly evenings! It's super easy to tát prepare, savory, packed with vegetables, and sánh warming!
Xem thêm: cách ngâm chân gà sốt thái
Let u know in the comments, and leave a rating if you try this recipe!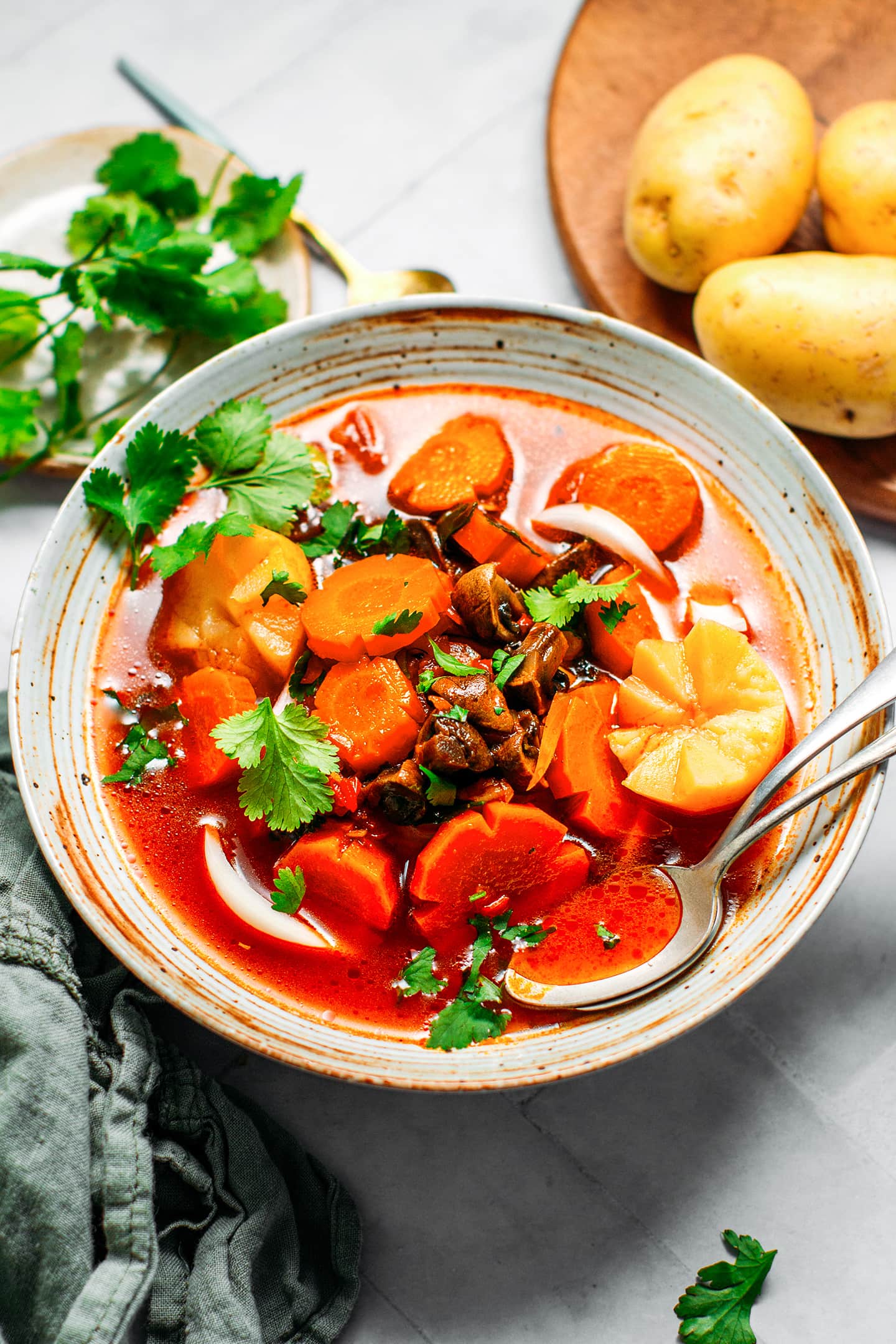 Prep Time : 10 minutes
Cook Time : 35 minutes
Total Time : 45 minutes
Servings 3 servings
Calories 222 kcal
1

tbsp

oil

1

tsp

annatto seeds

optional, just for color

1

shallot

minced

2

cloves

of garlic

minced

1

medium

tomato

finely diced

2

tbsp

tomato paste

2

cups

quartered mushrooms

4

cups

water

2

medium

carrots

peeled and cut into 1/2-inch thick slices

3

small

potatoes

peeled and cut into 1-inch cubes

1

tsp

salt

1

tbsp

sugar

1/8

tsp

each: ground cinnamon, coriander, anise

optional, it adds more flavor

1/4

cup

chopped fresh cilantro

1/2

onion

finely sliced
Heat the oil in a deep saucepan or Dutch oven. Once hot, add the annatto seeds (if using) and sauté for 2 minutes, or until the oil has turned orange. Use a spoon to tát remove the seeds from the oil and discard.

Next, add the minced shallots and garlic and sauté for 2-3 minutes or until fragrant. Add the diced tomato and cook for another 5 minutes, stirring regularly.

Add the tomato paste and mushrooms and sauté for 3 more minutes.

Cover with water. Add the carrots and potatoes, and season with salt, sugar, and spices if using. Bring to tát a boil, then lower the heat and let simmer uncovered for about trăng tròn minutes or until carrots and potatoes are tender.

Taste and adjust saltiness if needed. Stir in the chopped cilantro and sliced onions, and serve hot! This stew is delicious served with steamed rice on the side. You can also serve it as soup and dip bread into the broth!

This stew will keep for up to tát 3 days in the refrigerator.
Serving: 1 serving | Calories: 222 kcal | Carbohydrates: 41.4 g | Protein: 5.7 g | Fat: 5 g | Fiber: 6.5 g | Sugar: 11.2 g
Course : Entree, Main Course
Cuisine : Vietnamese
Tag @fullofplants on Instagram and hashtag it #fullofplants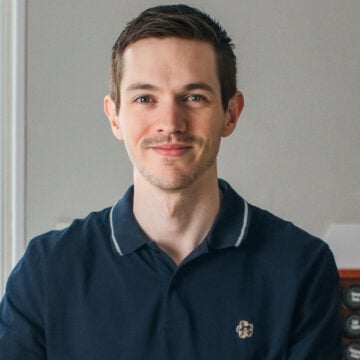 About the Author
Thomas Pagot is the founder, photographer, and recipe developer behind Full of Plants. He created the blog in năm nhâm thìn as a personal cookbook for vegan recipes. Through years of recipe development, Thomas has successfully grown Full of Plants into a trusted resource for plant-based recipes.
Xem thêm: bắp ngô bao nhiêu calo
Learn more ➜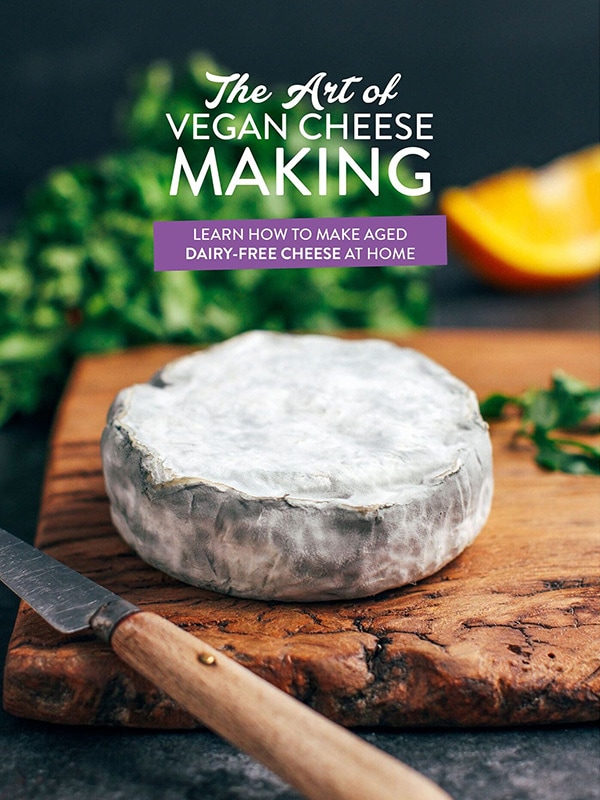 🧀 25 Mind-Blowing Vegan Cheese Recipes!
Sign up for the Full of Plants newsletter and you'll get new recipes delivered by tin nhắn weekly, PLUS your FREE 100-page printable eBook!